Welcome to the blog! This will be largely focused on the Colorado Springs area market but I do reserve the right to post about larger market issues, too!
Let's start this off with a year to date snapshot of the types of purchases in El Paso County. As you can see, conventional dominates the market right now, followed by VA, then cash and FHA. Cash has receded from its near market average high of 21.37% in August of 2021. Interestingly, that is nearly the ten year market high. The only time in the last decade it was this high was 21.66% in January of 2013.
This is one of my favorite graphs to show selling and buying clients as it helps manage expectations. It helps us know what to expect.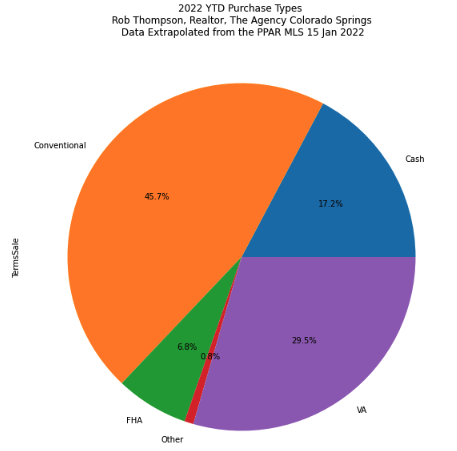 This my other favorite graph. It illustrates the closed to list price ratios for each of these purchase types. It also informs the question, "Is Cash King?" Of course, cash has no appraisal and can close quicker but is it commanding the discount it often is perceived to be?